The Challenge
How do you package oatcakes for delivery so they don't end up all in crumbs? How can you do this with materials sourced locally and without the package itself being wasteful of resources? In 2014 we devised what seemed a cool solution – cleaning and repurposing spent coffee cans – and tested it. We filled the cans with oatcakes and cushioned them with certified organic oatmeal. Then we mailed them to far away places. It worked! (See map below.)

The KiloCan
It worked so well we dubbed the invention "KiloCan" and then scrambled to find enough empty coffee cans to fill orders. The answer came from the Halifax Bridge Clubs where daily play consumes quite a bit of coffee, as well as from recycling minded customers and friends. The KiloCan created it's own ecosystem where empty cans come to the bakery and leave packed to the brim with oatcakes and a happy new outer wrapper. Update May 2023: The Bridge Club is back post-pandemic, so the KiloCan tradition carries on!

What exactly is in a KiloCan?
"Kilo" in this case is a misnomer actually. By the time a KiloCan makes it to the post office scale it is likely to be ±1750 grams! To achieve the safe transport objective, it's essential that the can is full. No wiggle room. This means we're packing over 80 oatcakes in every can. Sometimes quite a few more. And the packing oatmeal? It's edible of course and you are encouraged to use it in your cooking so there is no waste.

In Halifax $64
Via Canada Post to anywhere in Canada or the US $88.
Rest of world please inquire.

The following flavours may be available:
Classic Oatcakes (NKA: Unidentified Flying Oatcakes, UFOs) are our original and the basis of all that follows
Cranberry Organics are made with organic cranberries
Blueberry Oatcakes are made with Nova Scotia blueberries
Combos (AKA: Blisscakes™ )are made with both cranberries & blueberries
Lavender Dreams are made with lavender culinary buds
Maple Magic are sweetened with certified organic maple syrup
Organic Haskap are made with Nova Scotia Organic Haskap Berries
Buckyolas – an all organic vegan oatcake – with low or no gluten organic buckwheat flour – no dairy with organic canola oil, all lightly sweetened with certified organic maple syrup.
Garlic made with Garlic grown Bio-dynamically
KiloCans come only as single flavours otherwise it would be very hard to tell which oatcake you are eating. If you are having difficulty making up your mind try ordering our 5 package oatcake sampler for just $64 postage paid.

Genuine Oatcakes Sampler USA $64


Genuine Oatcakes Sampler Canada $64

KiloCans make excellent gifts!
Just let us know if you have any special requirements.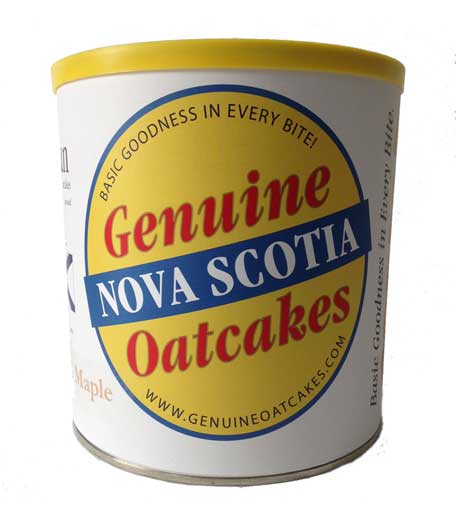 Jan 22, 2015
@genuineoatcakes
packing the oatcakes in oats is simply brilliant - well done
Gordon Stevens @uncommongroup
---
One Genuine Oatcakes KiloCan USA $88
One Genuine Oatcakes KiloCan Canada $88
Save on shipping:
Two Genuine Oatcakes KiloCans USA $164
Two Genuine Oatcakes KiloCans Canada $164